It all began with a bottle of ready-made Kahlua White Russian brought home to me by my wife. I figured it would be a good idea to live like so many of my relatives did before me — drink every night till I couldn't drink anymore. I wanted to know if I could control my drinking even after being exposed to it for a weed. One truth was that my tolerance for alcohol was low due to the fact that I just didn't drink that often. This forced me to modify my drinking to one 16 oz glass of liquor mixed with something every night, but I made sure that it was heavy on the alcohol. What I did learn during my week is that alcoholism is greatly romanticized and functioning alcoholics should have their own parade. 
I got absolutely no work done during my short stint as a daily alcohol consumer. There was no reading, no book reviews — there was no writing of any sorts. I had gotten the green-light to start work on two articles for two different websites and, well, they hadn't gotten finished. The good thing was that there was no definitive due date for my assignments and they were finally completed once espressos became my small cups full of ambition, again. That's another thing — I was too lazy to make my daily cup of sweet lady caffeine. It was ridiculous. I never got so drunk to the point that I forcefully exposed myself to the dreadful life of drinking instant-coffee. 

What I did learn was that alcohol might have stagnated my intellect, but it absolutely didn't stop my body from getting work done. I was still able to lift weights and remove a tub. A very heavy tub at that. Without any real scientific evidence, I am going to theorize that elevated liquor sipping is great for physical labor. There is some beauty to the magic that drunkenness can bring. 
I became more outgoing last week, too. I actually accompanied my wife and brother to the bar that my wife's friend works at. Yes, I got completely wasted this night, but it was the most fun I've had in months. My mind wasn't clouded by academics, perceptions, or anything else. It was just whatever I was sipping at the moment and my free thoughts while having a good time. I even took my wife to the movies with MY insistence and not hers. The movies is a place that I try to steer clear from because I used to hate crowds of people. I even agreed to an impromptu trip to the State Fair in Dallas. 'Sober Fabian' would have never allowed such a trip to happen without careful planning and budgeting.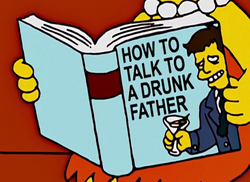 My parents always told me to stay away from alcohol because there is a prevalence of alcoholism in my family tree, but I feel it has now become a friend that I can't part from. It showed me that I should stop being so anal in regards to my time and have a more fun while being open to (almost) everything. Will I be drinking 16 oz every night? No. Am I about to pour some liquor in a glass of ice to give it some life? Yes, absolutely. I might actually try living another week as an somewhat controlled alcoholic soon. I don't see the harm.